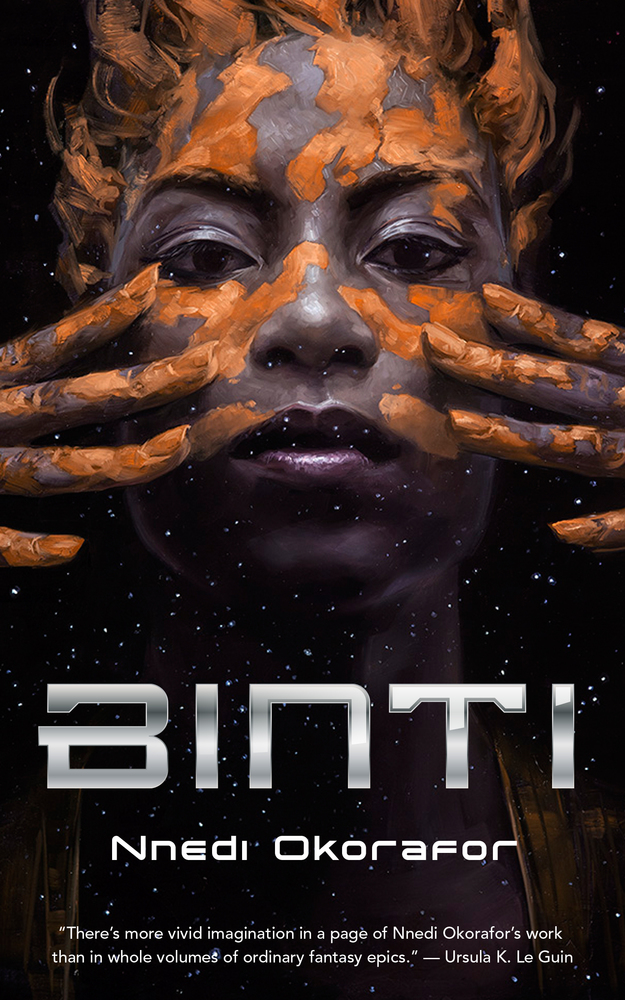 Binti by Nnedi Okorafor
Tor.com, 2015
E-book, 96 pages
I've been meaning to read something from Nnedi Okorafor for a good long while.  I have her debut novel - Who Fears Death - in hardback (courtesy of Nic and Niall, always recommenders of good things) and her prize-winning Lagoon on my Kindle.  But it took Binti, a shorter fiction from Tor.com 's novella programme, to pitch me into her writing, and it proved to be a powerful introduction. Powerful world-building, striking in its texture, combined with a compelling gutsy young protagonist made it an exciting and provocative read, in spite of the fundamental difficulty I had with it.  
Binti is already a master harmonizer at the age of 16, trained by her father in the making of astrolabes and most gifted of her people.  Mathematics is like magic for her; equations are spells that put her into problem-solving trances.  We first meet her in the middle of the night, sneaking away from her family, hoping that her weary ancient luggage transporter will last long enough to get her to the docks.  She is running away to university, and not just any university - Oomza Uni, the best there is, on a planet far far away.  To get there she has to board a living space ship and travel as far away from her desert home as could be imagined, absolutely alone for the first time in her life.   When she won a place her family were either dismissive or dismayed, begging her to rethink: her place is with them, she won't belong, if she leaves her chances of marriage, of a traditional life, will be reduced to nothing: We Himba don't travel.  We stay put.  Our ancestral land is life; move away from it and you diminish.  We even cover our bodies with it. 
Arriving at the dock, boarding the ship, Binti is confronted with the shock of her difference.  The Himba are a minority human group dominated by the numerous Khoush and, unlike the Khoush, Binti paints her body and hair in otijize, a mix of red clay and plant oils that links her powerfully back to her home.  At the same time it makes her look and smell alien, even in a world accustomed to the existence of actual aliens.  Standing in line waiting to board the ship a Khoush woman leans forward uninvited and feels the end of Binti's plait, rubbing her fingers together to sniff the otijize, and then proceeds to discuss the 'filthy dirt bathers' with a friend.  Binti listens, pulls her plaits to the front and says nothing.  It's an act of physical and psychological invasion that lingers over the novella, and highlights the distance that she is proposing to travel. 
Once aboard with her future classmates things start to improve.  Maths connects them above and beyond their cultural differences, it's rules and laws are universals, and she starts to make friends, to share glances with boys.  Then, without warning in the middle of dinner, the ship is boarded by the alien Meduse and every single person except Binti is brutally, indiscriminately murdered.  Jellyfish-like with a fatal stinger, the Meduse are age-old enemies of humans, and they rip through the unarmed teenagers on board in a graceful wave of death.  Binti is only saved by pure chance.  The most precious thing she has from her home - except for her stock of otijize - is an edan, a mysterious piece of ancient technology that she found in the desert.  It turns out that this is both a mathematical weapon and a communications system that protects her from the onslaught and, eventually, allows her to negotiate with the enemy. 
Prejudice is the thread that strings Binti together, from the casual racism in line at the docks to the killing rage of the Meduse.  Okorafor explores the way in which encounters of difference - especially where difference causes offence, pain or fear to either party - entrench into stereotypes, and how these stereotypes are reinforced by future contact until they become insurmountable.  Humans and meduse hate one another, with apparently good reason on both sides: each thinks they better get down to the killing first or the other will.  No one can remember the last time words rather than weapons were exchanged; each thinks the other murderous, thoughtless savages.  Until Binti disrupts the pattern neither side has any reason to think otherwise.  The theme of the story, then, becomes communication, or at least the creation of contexts in which communication, and subsequently reconciliation, is possible.  The end of the novella is incredibly hopeful that this is possible.
Which is where my difficulty with the story lies.  I found it very hard to believe the promise of new harmony and understanding between races that closes out the narrative in light of the horrific crime these particular meduse commit on the journey to Oomza Uni.  Age-old misunderstandings aside it's quite hard to swallow the enlightened reasoning of the professors given that hundreds of innocent young adults have just been slaughtered.  Similarly the extent to which Binti adjusts to her new reality is rather rapid after witnessing her new friends ripped apart.  Yes, she is suitably afraid of the meduse and fearful for her life but she is never angry at them.  Nobody seems to be very angry at the things that have just happened; those deaths are reduced to the latest in a string of inter-species atrocities and distanced in a way that doesn't seem to do them justice at all.  It's a bit of a stretch to believe that Binti's ability to speak to the meduse is enough to overcome her powerful experiences of them.  This extraordinary act of forgiveness - which is personal as well as cultural - is never sufficiently considered for me.  Instead Binti's personal reconciliation with her decision to leave her home and family is foregrounded, which I really appreciated and enjoyed, but was a bit dwarfed in context. 
I recognise that the novella has limitations in terms of length and I'm an inexperienced reader of it, so maybe this difficulty is more a problem of my expectations.  Still I can't help but think that Binti needs a longer word count to come into it's own.  While I thoroughly enjoyed reading it, it left me with too many fundamental questions unanswered.  In a strange way this makes me anticipate reading Okorafor's novel-length works more than ever.  If this short work was so provoking, what must they be like?
~~Victoria~~